read
I received the following push notification from ohmyhome, a Singapore PropTech startup.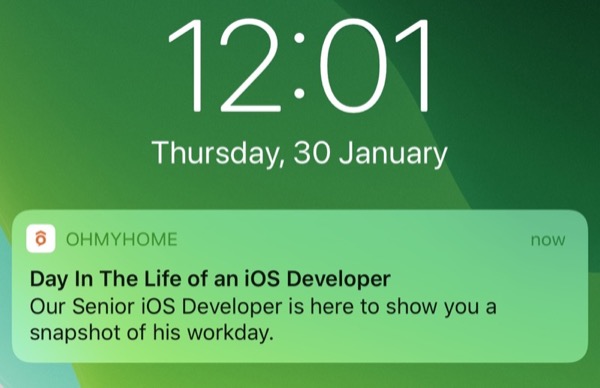 No joke, they really have a blog post.
Understandably, the blog post is for hiring, and thus the cringy dramatic writing to put the company in good light.
Probably directed and written by a PR person. The iOS developer is innocent. But it's so amusing that I have to comment on it 😂
8:00 am: Work-In-Progress (WIP) meeting
a one-hour meeting across all the departments from Engineering, Marketing, Customer Service, Operations, Design, Business Development, the Philippines (PH) team, to the Malaysia team.
To start work at 8am is very, very rare. I call this a bluff.
Worse of all, it's a World War III meeting with so many departments, for 1 hour! That's 1 fresh hour wasted in the morning.
9:00 am: Stand-up meeting
I hope he didn't stand for 30 minutes.
9:30 am: Work starts
dive into his JIRA list, Slack notifications and Trello board.
Oh no. JIRA + Trello. Is it the more tools the better?
2:00 pm to 4:00 pm: Deep work
If he's not furiously coding, he is regularly consulting our Backend Engineer for productive, technology-based discussions that spur creative solutions.
Communication with backend engineer is essential. But the discussions are usually just clarification over a lack of documentation, or to ask for changes to feed the app with data, or to find a bug together.
Creative solutions? Hmm that usually result in bugs. Boring code is good.
4:15 pm to 4:45 pm: Meeting with Marketing Team
notify the marketing team to ideate campaigns that will communicate his hard work through beautifully designed artworks, ad copies, blog articles, videos and more.
OMG. Don't they have a Product Manager?
4:45 pm to 6:00 pm: More coding
to clear the remaining pending items on his Trello board, which usually consists of code cleanups, committing his code, doing code reviews and submitting pull requests.
This is narrative fallacy.
Engineers don't do the above only at the end of the day.
The blog post also left out the real coding work done in silent nights, when there's no one to disturb.